Indonesia's Health Problems and the Contribution of Floating Hospitals (Part 1)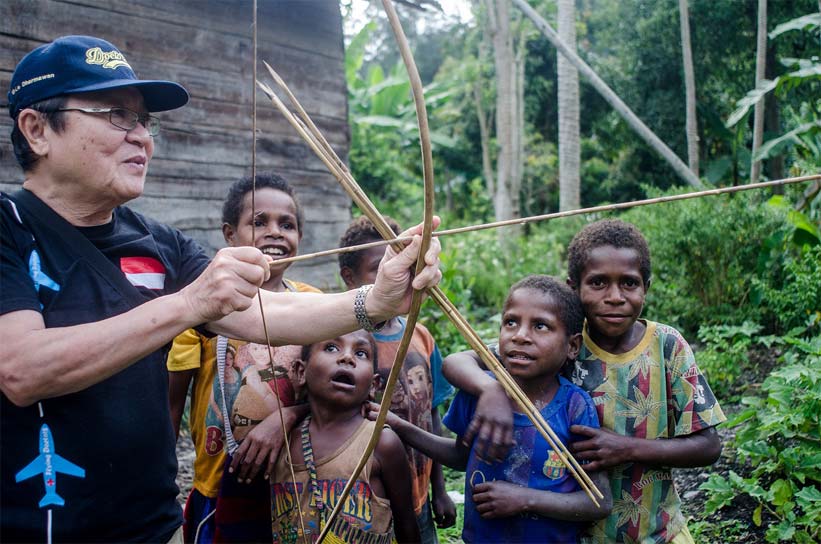 March 16, 2013, Dr. Lie Dharmawan's Floating Hospital (RSA) made history by making its maiden voyage to Panggang Island in Kepulauan Seribu Regency, DKI Jakarta. Never before had such a small wooden ship (23.5 x 6.5 meters), a traditional Pinisi ship, been used as a hospital and major surgery performed on it.
This first experience provided proof that the small ship could do its job as a hospital, and encouraged us doctors – especially surgeons – that although there were still difficulties to overcome and adaptation required, the problems could be overcome.
This first experience really made us confident and eager to continue our mission to places with greater challenges and difficulties. We visited East Belitung Regency and Ketapang in West Kalimantan, respectively, before the RSA finally returned to Jakarta, boarded the dock, and underwent major repairs.
The engine, which was originally a truck engine, was replaced with a 340 HP ship engine, the ship's body was covered with fiber, the steering fins were replaced with larger ones, and the manual steering was replaced with hydraulic. Navigation and communication systems were also upgraded. This first RSA was completely "transformed" from a freighter into a hospital on board a ship with all modern equipment according to standards.
The experience of running a mobile hospital for the past four years gives us confidence that what we have done is beneficial for our brothers and sisters in remote areas and outer islands of the Unitary State of the Republic of Indonesia (NKRI).
Valuable Lessons of Floating Hospital
A valuable lesson can be learned from the time the RSA idea began to this moment, eight years later. That lesson is that when the eyes and focus of the mind are fixed on something we desire, supported by inexhaustible energy (ausdauer in German) by the beliefs we have and strengthened by love and pride in our common dream as a nation, we will be able to overcome all difficulties.
As I write these reflections, although the burden I have to carry is heavy, my heart is full of joy and optimism. How could I not, when the idea was born eight years ago, no one believed in the project, and it was even ridiculed.
Imagine, for four years before the first RSA set sail, the mental burden of subtle innuendos to outright insults ("you're crazy") as well as the financial burden that had to be borne alone was overwhelming. It was only because of the fervor of faith that He will help those who want to do good and a genuine sense of pride and love for the Republic of Indonesia that this project finally succeeded.
This is not written to "vent", "curcol", "baper", and various slang terms today. It isn't. Rather, it is to illustrate the excitement and belief that the greatest difficulty is to defeat ourselves. We can do something unimaginable. A milestone has been laid.
Now it is just a matter of matching whether the original idea of creating an RSA is still relevant and needed and what other difficulties must be overcome.
The initial idea of creating an RSA was born out of concern for the difficulty of patients in remote areas to get adequate and affordable medical services. The right to medical care and a prosperous life is guaranteed by the Constitution of our country.
The difficulty of accessibility to adequate medical care remains and is likely to remain for an unknown number of years to come.
Healthcare Disparities and the Statistical Jumble of Doctor Ratios
Let's map out the facts and issues we face. Indonesia is an archipelago with an area of approximately five million square kilometers consisting of 17,500 islands with a dimension of approximately 1.97 square kilometers. The discrepancy between western and eastern Indonesia is huge in terms of physical infrastructure which impacts on economic growth, education, population distribution, and medical services.
Overall, the HDI (Human Development Index) in eastern Indonesia is lower than its western counterparts. This is due to the fact that development has been more centralized in western Indonesia, since the Dutch colonial era and after independence. Some of the rural areas we visited had never seen a doctor during Indonesia's independence.
The lack of road transportation facilities and the high price of fuel prevented the transportation of patients to medical centers, which were very inadequate. Not to mention sea travel during big waves and strong winds, which is impossible, causing many cases to be neglected. Not surprisingly, the maternal mortality rate is high.
The lack of medical personnel to serve and provide counseling on how to live a clean and healthy life has an impact on the high prevalence of infectious diseases such as tuberculosis, diarrhea, skin diseases, typhus, and so on. The facts and problems above also make us wonder how our medical services and capabilities actually are.
In Indonesia, there are approximately 105,000 registered doctors serving more than 250 million Indonesians. Of these 105,000 doctors, we do not know how many of them are not working in the medical field or not working full-time.
The World Health Organization (WHO) argues that in a developing country, a ratio of doctors vs 2,000 population is adequate. In the case of Indonesia, one doctor serves 2500 people.
Statistically on paper, the number of our doctors is "not bad". This is a form of "justification" in the name of statistics. Statistics are a collection of numbers that can be visualized in the form of diagrams or charts that show the factual situation about a reality. Statistics are a tool to examine the "truth" to solve the problems we are facing.
But statistics should not be used as a means of "justification".
Although the WHO thinks 105,000 doctors are sufficient to serve Indonesia's population of nearly 260 million, does this numerical "truth" really correlate directly with the improved health status of our people?
Unfortunately, no. The Healthy Indonesia we set out to achieve in 2010 has not turned out to be a reality. The Millennium Development Goals (MDGs), the global development goals initiated by the United Nations and agreed upon with 185 other countries, have passed their expiration date of 2015.
The goals for improvement in the health sector that we wanted to achieve have not been achieved. On the contrary, some areas, such as the maternal mortality rate, have even fallen short of the target. Since 2015, Indonesia has also risen to become the number 2 country contributing the most TB patients in the world along with the People's Republic of China, after India, which has the largest number of TB patients in the world.
It is wrong to assume that there are 440,000 new TB patients every year. Based on WHO calculations, it turns out that there are about a million Indonesians infected with new mycobacterium tuberculosae each year, which is not a small number. Imagine, we share the world's second largest TB burden with China, which has a population of 1.4 billion.